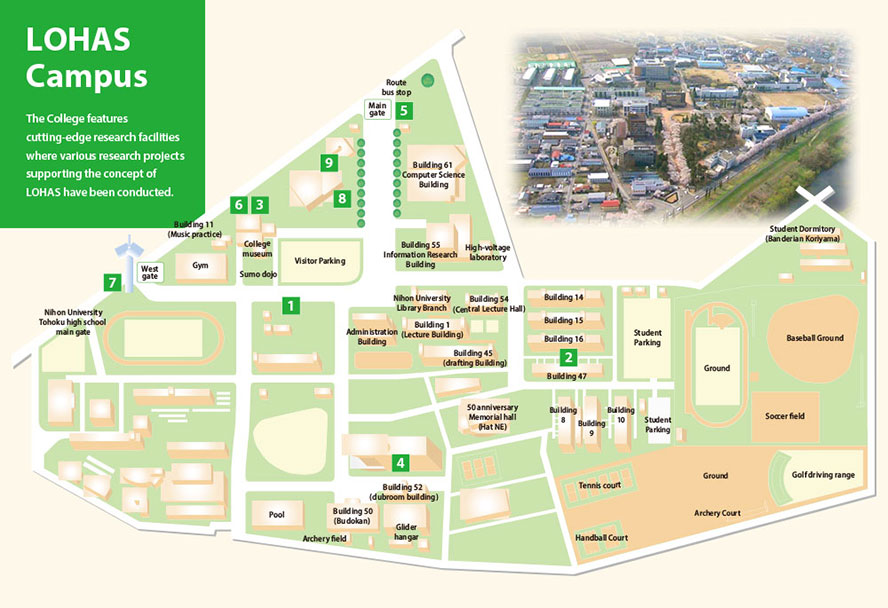 1House of LOHAS (2009~)
Aiming to establish a residential house design standard and elemental technologies to create a living environment for "Lifestyles of Health and Sustainability," we have conducted research projects such as "the self-supply of thermal and electric energy" in House of LOHAS 1, "thermal barriering, insulating and storage" in House of LOHAS 2, and "the self-supply of water" in House of LOHAS 3. Furthermore, we have conducted research not only on waste water purification utilizing natural self-purification in LOHAS Flower Beds, but also the sufficient utilization of solar heating stored in the ground in the Center for Ground-source Energy.


2LOHAS Bridge (2014)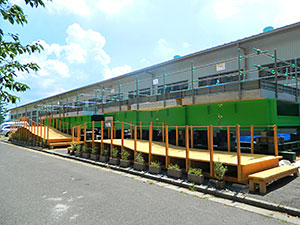 A full-size model bridge on the campus was reproduced for the first time in Japan. We have conducted research on strong and durable bridges through annual on-site measurements and various endurance tests.
3Revitalization Center for Regional Community, Research Institute (2012)
This center has a radiation measuring room equipped with semiconductor detector and scintillation detector, and strives to maintain safety and security for educational and research purposes on campus. It assists in reconstruction of disaster areas and realization of a sustainable society.
4Building 70 ( "The Energy Saving Rainwater Recirculation System" ) (2006)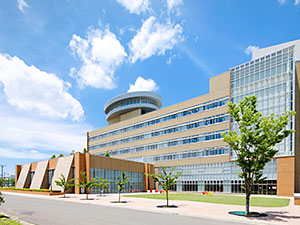 Building 70 is equipped with "the energy saving rainwater recirculation system" which was developed as an academia-industry collaboration project. The rainwater purified through the system is used not only for toilets and gardens but also for emergencies.
5Koriyama Area Technopolis Incubation Center (2006)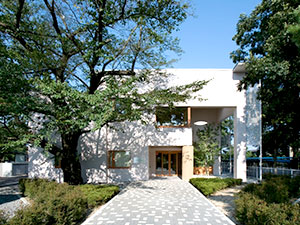 This center was established on the campus to incubate commercialization of technology seeds from the college with intellectual resources and industrial support networks of the college.
6Cooperative Research Center for Environmental Preservation and Ecological Life Cycles (2003)
This center strives to solve global environmental issues involving various kinds of studies to continuously develop "creation of a cycloid type society with care for the environment." This is achieved by revising our conventional model of environmental conservation in the local community through coexistence between people and nature.


7Wind Power Generator (2003)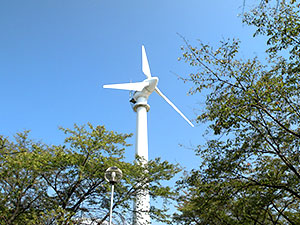 We study the characteristics of a wind power generator on campus. The generated energy is used in our research centers.
8Green Square for Relaxation (2002)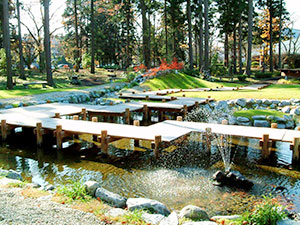 The square has an energy saving rainwater circulation system which purifies water by filtering, pumping and circulating rainwater with the use of the wind and solar power.
9NEWCAT Institute (Nihon University College of Engineering Worldwide Research Center for Advanced Engineering & Technology) (2002)
NEWCAT is equipped with an animal experiment room where surgical operations can be performed. This is the first of the kind among the colleges/universities of engineering in Japan. It is the first Japanese research center for advancing biomedical engineering research, and has been instrumental in not only developing medical and medical diagnostic devices but also achieving top level results around the world.